CHAMBER & ENSEMBLE COMPETITION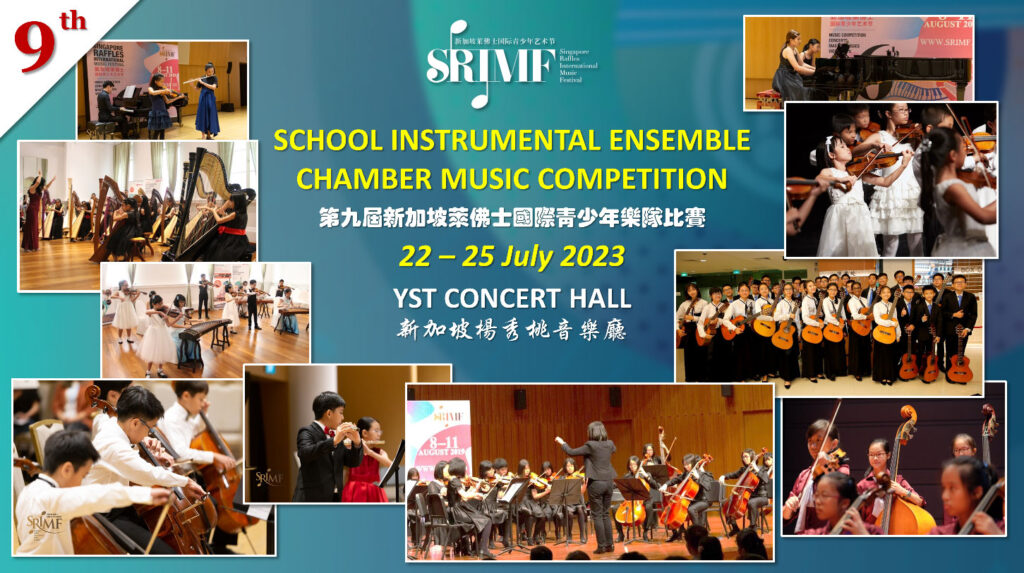 CHAMBER MUSIC COMPETITION
NO
CATEGORY
AGE
D.O.B (DD/MM/YYYY)
PIECE
DURATION
CHAMBER MUSIC COMPETITION (2 – 7 PERFORMERS)
D1
Chamber Music Category A

Age 12 and Below

Born after 01/06/2010

One Piece

Within 7 Mins

D2
Chamber Music Category B

Age 18 and Below

Born after 01/06/2004

D3
Chamber Music Category C New!

Age 25 and Below

Born after 01/06/1997
INSTRUMENTAL ENSEMBLE COMPETITION

NO
CATEGORY
AGE
D.O.B (DD/MM/YYYY)
PIECE
DURATION
INSTRUMENTAL ENSEMBLE COMPETITION (8 – 30 PERFORMERS)
E1
Instrumental Ensemble Category A

Age 12 and Below

Born after 01/06/2010

One or Two Pieces

Within 10 Mins

E2
Instrumental Ensemble Category B

Age 18 and Below

Born after 01/06/2004

E3
Instrumental Ensemble Category C New!

Age 25 and Below

Born after 01/06/1997
Instrumental Ensemble Competition

Participating Ensembles get to choose their challenge level and music that can best showcase the group's performance ability. Each Ensembles will receive written feedback from a panel of internationally renowned adjudicators to help improve the Ensemble's performance.
Workshop & Masterclass
From a follow-up workshop after the competition, the conductor and the Ensemble will get to work with one of the adjudicators/clinicians to learn practical skills to enhance the understanding and approach to music performance.
International Exchange Program
Meet like-minded musicians from other parts of the world!
Exchange musical ideas, experience the cultural heritage and dynamics of Ensemble music from a different culture, and build a network for future collaboration.
Registration Fees

The registration fee for local school and overseas participants participating in the festival
is a one-time charge of SGD$ 500. The deadline for registration for the 9th SRIMF is 1st June 2023.

These fees are non-refundable and payable upon application to take part in the festival and will include:
4 entrance tickets to the Gala Concert and Award Ceremony on 25 July 2023  (due to limited venue space, reserve the ticket soon )
Ensemble Competition Registration in up to two categories in the competition.
Ensemble that sends in their completed registrations before 31st March 2023 will get an early bird registration waiver of 5%. Please note that individual festival pass fees still must be paid. Refer to Festival Fee below for more information.
Festival Fees (International Ensemble)
The SRIMF offer Festival packages to select from. Every participating SRIMF must select a festival package as part of their participation.
Please note accommodation, travel and transport are not included in the festival fee and you are allowed to make your own arrangements. If you wish for us to manage your accommodation, travel or transport, please indicate in the application form and we will be on hand to help with your requests.
Please drop an email to
info@srimf.sg
with your Name and Country for us to send you the appropriate package rates for the festival.
RULES AND REGULATIONS
Application to the SRIMF Chamber & Ensemble Competition is open to young musicians of all nations below the age of 25. The average age of Chamber/Ensemble members will determine the category.
Conductors and piano accompanist are not subject to the age limit.
All instrumental ensembles will perform one or two pieces of their own choice, and may perform without conductors.
You may participate in up to two ensemble categories.
VIRTUAL ENSEMBLE COMPETITION
If your ensemble are unable to travel, you can still take part in the Singapore Raffles International Music Festival (SRIMF) by choosing to go virtual with us.
Instrumental Ensemble groups will be able to take part in above categories via virtual recorded submission and will be provided the same written comments, scoring, and certificates subjected to the following conditions:
Taking part in the Virtual competition will be adjudicated by International judges but the scoring will be separate from the actual competition.
Taking part in the virtual competition will not be eligible for the Gala Concert in Singapore.
Competition submission must be in video format in one single take. More information and details will be provided to you when you sign up for the virtual competition.

ADJUDICATION & EVALUATION
Competition will be evaluated on a 100-point system based on the following criteria:
Technicality (40%) Intonation, Rhythm, Tonal Qualities, Dynamics, and Balance;
Musicality (40%) Phrasing, Interpretation, and Style;
Overall impression (20%) Expression and Overall Artistic Impression.
Each participant will receive Jury's Comments sheet which aims to offer professional insights into their level of performance for their progression in their music journey.
AWARD
MARKS
PRIZE
CHAMBER & ENSEMBLE COMPETITION
Gold with Honours
95 & Above
Certificate & Trophy
Gold
90 & Above
Silver
88 & Above
Bronze
85 & Above
Elite
80 & Above
CHAMBER MUSIC & INSTRUMENTAL ENSEMBLE REGISTRATION FEE
Chamber Music Category
(2 – 7 performers)
S$300
Instrumental Ensemble Category
(8 – 30 performers)
S$500
VIRTUAL COMPETITION SUBMISSION GUIDELINE
Specifications for the video submission are as follows:
Layout: Landscape Mode
Quality: 1920 X 1080 HD
Format: .mp4 or .mov file
Audio: Source from video camera or DSLR is recommended
The entire performance must be one take, without any editing. Recordings must be made no earlier than 5 months prior to the registration dateline.
Please tune your instrument before the start of the recording. Tuning does not need to be recorded.
Ensure that the video consistently captures the performer and the instrument.